Adonidia merrillii
The Adonidia or Christmas palm is also known as the Manila Palm. It is a native palm to the Philippines, where it is threatened by habitat loss. This palm has had it's scientific name changed to Veitchia merrillii, but the Christmas Palm is still largely referred to as the Adonidia.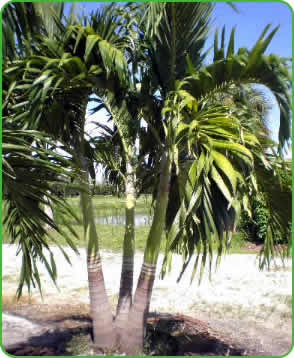 The Christmas palm is an exotic palm that produces clusters of bright red fruit every year around the holidays. First, the Palm will produce small gray-green flowers. It is these flowers that will produce the fruit, and by late fall the fruits will start ripening. By Christmas time these fruits appear bright red and seem to decorate the Palm as someone would decorate a Christmas Tree. The fruit does not attract animals.
Our Christmas Palms come in pairs and in sets of three.
The Christmas Palm tree looks very similar to the Royal Palm, but the Christmas Palm is noticeably smaller. The palm will grow fast and is not a high maintenance tree to take care of.
One of the most popular Palms, these palms are many times decorated with lights and Christmas decorations. This palm tree thrives in warm weather. The Christmas Palm is very popular, make your order now.

Palm Tree Facts:
This Palm tree is available to buy Common Name: The Christmas Palm
Also known as: The Manila Palm
Scientific Name: Adonidia merrillii
Kingdom: Plantae
Division: Magnoliophyta
Class: Liliopsida
Order: Arecales
Family: Arecaceae
Genus: Adonidia
Species: A. merrillii